I have a couple great products to tell you about!! I LOVE tryazon! I was given a party pack to introduce my friends to some of these great products! They would make great gift ideas too!!
In 2012 two (male!) college students went to a music festival. All of the sudden, the lights went out and all the women started digging their purses. An idea was born.
SOI
(pronounced like zoe, not soy) became the first automatic handbag light on the market, meaning it needs no switches, buttons, or anything alike. It illuminates as soon as you start digging the purse and then shuts off automatically. SOI can also be used in suitcases, in hotels, and as a night bathroom light. Engineered and manufactured in Germany, its quality and precision make it a useful gadget and gift!
This purse light is amazing! If you have a "bottomless" purse like I do, you need some light at the bottom of the dark pit. This one is motion activated, so you can give your purse a shake, and it will light it up down there in the depths of your purse! I LOVE IT! I don't know how long the batteries last, but I LOVE IT A LOT!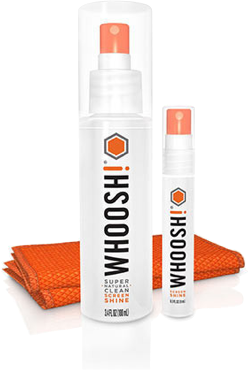 Let's be honest, we know you take your phone to the bathroom. We also know that you sloshed egg on your laptop this morning and we saw you shake hands with flu guy at the mall… we don't even want to talk about what your kids did before you let them play angry birds on your iPad… Introducing a superior innovation in cleaning that's powerful and safe to use… because hey, it's a dirty world out there. Prepare yourself for a rush of clean happiness. WHOOSH! Screen Shine is the solution for Tech Hygiene. But what the heck is Tech Hygiene?!? Well when we learned that our phones are 10x dirtier that a public toilet seat, we knew that we could make things better. Tech Hygiene for us is all about a clean new habit: you brush your teeth; you wash your hands – and now you'll WHOOSH! your screens. Because, frankly, it'd be gross not to. So what should you use WHOOSH! Screen Shine on? Everything and anything! It removes the germs and bacteria you can't see on all of your tech devices (smart phones, tablets, laptop screens, key boards, etc.) plus the dirt and smudges you can see.
If your interested, WHOOSH! can be purchased at
http://whoosh.com
I received a party package for free in order to try these and share them.